Heavy Metal Pioneer - Tony Iommi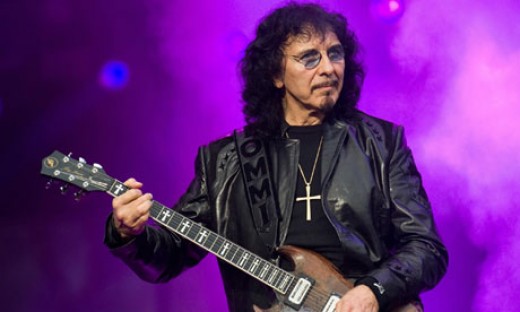 Tony Iommi and one of his Gibson SG guitars.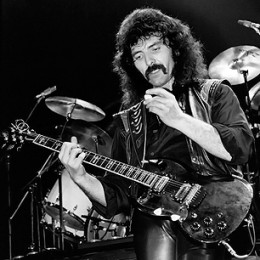 Black Sabbath - With Ronnie James Dio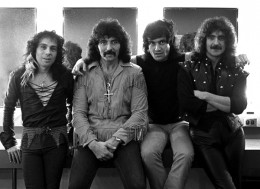 Black Sabbath (original lineup)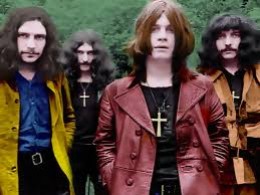 Tony Iommi signs a Gibson SG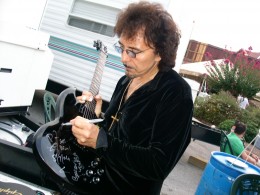 Tony Iommi - Heavy Metal Guitar Pioneer
It is impossible to think of heavy metal music, and most especially, heavy metal music in its early stages of development, without thinking of Tony Iommi. Oh certainly, the first heavy metal band, or who recorded the first songs which could be called heavy metal, that's some bit of debate; as what the defining characteristics of the genre are - mostly depend upon who one is speaking with. Some say bands such as The Who were responsible for the first heavy metal songs, I can't argue; but The Who was certainly not a heavy metal band. Some other folks think Led Zeppelin, though not a heavy metal band, recorded some of the first heavy metal tunes. No argument from me there either. Others will mention Ritchie Blackmore and Deep Purple. No doubt at all from me a lot of Deep Purple's music was heavy metal. Deep Purple as a band, however, probably wouldn't qualify as a pure heavy metal band.
When one brings up Black Sabbath, well, that's a different thing altogether. I think it is probably most true to say Black Sabbath was the very first pure heavy metal band, and Tony Iommi's guitar sound was a dominant thing in that band. When a musical historian looks into heavy metal, he won't likely ever say Jimmy Page was a heavy metal guitarist, Page and others may have recorded some things which were heavy metal,but they were not metal guitarists or in metal bands. No one will likely every be able to argue whether or not Tony Iommi is a heavy metal guitarist, he is the definitive guitarist for that genre of music in its early stages. I'm going to call it here as I see it, Tony Iommi was the first true heavy metal guitarist. He set the stage, he defined the genre, he's the godfather of heavy metal guitar.
Born on the 19th day of February in the year of our Lord 1948 in Birmingham England, the world was gifted with it's first true heavy metal guitarist. Tony nearly gave up guitar after losing the tips of some fingers on one hand while working in a sheet metal factory. He had good friends though, and they encouraged him by turning him on to the music of
Django Reinhardt
, a Gypsy guitar whiz who only had full use of two fingers on his fretboard hand. Tony's injuries, though severe, weren't anywhere nearly so severe as were Django's for a variety of reasons. Soon enough, Tony snapped out of his reluctance and depression, and went on to become the genre busting guitarist we still know and love today. For a more full biography of the great Tony Iommi, you can
click here
and read it on his official website.
After an exceedingly brief stint with Jethro Tull, Tony would return to the band Earth, the band which would become Black Sabbath. Not just Tony's guitar sound would be unique in Black Sabbath, but also the subject matter and lyrics of the band. Occult themes, political corruption, the darkest ends of substance abuse, horror themes and apocalyptic visions of doom with faint hope of redemption filled the albums of Black Sabbath; there'd never been anything like it before, but since then, untold hundreds or thousands of bands have attempted to make records in the style of the music and content of the great Black Sabbath.
From 1968 all the way to now in 2014, Black Sabbath is and has been a major touring act and creative engine of a band, churning out more and more heavy metal music. In recent years, after decades solo, Ozzy Osborne has returned to the band which made him famous; in fact, the original lineup of Iommi, Osborne, Butler and Ward is the current one. According to Wikipedia, Black Sabbath has sold over a hundred million records to date worldwide.
The Gibson SG Tony Iommi Signature Guitar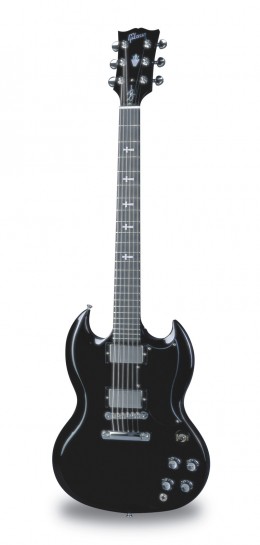 Tony Iommi and the Gibson SG
The band Black Sabbath will always be synonymous with the guitar work of Tony Iommi. Of course he's hardly the only member of the band; and for some, Black Sabbath will always bring to mind Ozzy Osbourne, as most of the great Black Sabbath albums featured him as vocalist. Black Sabbath, however, has had other vocalists, other terrific vocalists too; what they've never been without, for one, is the guitar work of Tony Iommi. Tony Iommi has nearly always been associated with one specific make of electric guitar, the Gibson SG. Only Angus Young of AC/DC can be associated as closely with that specific instrument as is Tony Iommi. It's little wonder Gibson guitars decided to honor Tony, as he's sure honored them, with a Gibson SG Tony Iommi edition instrument.
The Gibson SG Tony Iommi signature guitar is all in black, and has a gothic heavy metal décor, just as you'd expect. There is also a less expensive model produced by Epiphone, a company aligned closely with Gibson guitars. Essentially the Gibson model is a Gibson SG, it is the same as any other Gibson SG except for the custom silver cross fretboard positioning markers, as the members of Black Sabbath are forever wearing crosses around their necks, it's a trademark for them.Now don't think this is standard inlay, it's not - the silver cross positioning markers are of sterling silver
The other major difference is the humbucker pickups are specifically what Tony Iommi uses, rather than the standard ones. These humbuckers are specifically called Iommi high output pickups. Tony is certainly a high output performer, and has been for so many years his music won't soon fade from the minds of humanity, as it resonates deeply within some of us, and I'm certainly one of those. This Gibson SG Tony Iommi signature guitar isn't easy to find. The much more affordable Epiphone instrument will always likely be available. For a player or collector of fine Gibson electric guitars though, this Tony Iommi SG is a sure win. Are those angel's wings, or devil's horns the body shape embodies so wonderfully? That's something truly for you to decide for yourself. Let's hear it for Gibson and Tony Iommi! I think we should certainly hear some of both here too.
The Epiphone Tony Iommi SG

The Tony Iommi Epiphone SGs.
For those a little lighter in the wallet, Epiphone also makes a signature series Tony Iommi SG guitar. These have the humbucker pickups designed by Tony in them, and they are available, of course, in either right handed or left handed models.
Epiphone proclaims Tony as the Godfather of heavy metal, so there's where they stand on the argument. An SG guitar is always heavy on the mid-range in the sound spectrum. This is due to the size and shape of the guitar, and to the all mahogany body of the instrument. Certainly, every tonality of electric guitar you hear on any Black Sabbath song is as a result of the construction of the SG guitar, slack tuning, and loud loud amplification. This is a power chord monster's dream.
I'm pricing these guitars on the web new at around $800 bucks. You may be able to score a used one in good condition for half that. The crosses as fret-board markers, and the all black Gothic looks are the hallmarks of these guitars. These guitars are also known as Tony Iommi G-400s. So if you are using the web to search for them, be certain you also use that in your web-searches.
What does SG mean? It simply means solid guitar, and these certainly are. Solid in construction and play-ability and tonality too. The cutaways are either angel wings or devil horns, depending on how you choose to see it.
If you watch the video below you will hear Tony tell you there have been more than one model of Tony Iommi Epiphone SG. So some will be different than others. I can tell you the 24 fret guitar is going to sound and play a bit differently from one with fewer frets and a shorter scale, so be sure you think about those things in regards to what you want when you shop for these guitars.