David Gilmour with Pink Floyd and playing a Fender Stratocaster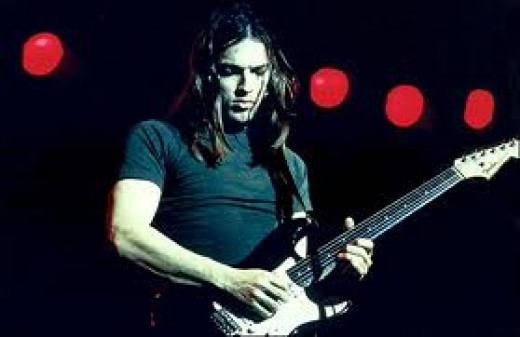 David Gilmour and Pink Floyd
So initially the story wasn't pretty. There was a man on his way to superstardom, a creative genius, and he became a casualty of Lysergic acid diethylamide; or that is how the story goes. Perhaps LSD had nothing to do with it, and the man was headed towards being incapable of functioning as a musician anyway. It doesn't matter now either way. What matters is that it happened, Syd Barrett was out, David Gilmour was in.
He'd been an underwear model, and hey, that's not a bad gig for folks who can get it. It's just not something that much allows you to express yourself, and David Gilmour had a lot of creative expression bottled up inside him, waiting to come out. Thank God for that. I do.

In the end everything worked out beautifully for David Gilmour, for Pink Floyd, and for all of us who love the music. There's only a short list of bands who can rival what Pink Floyd did during the time period they were recording, and who knows, it's possible there will be another Pink Floyd album sometime. I hope so.
The music came to us as if it were from another dimension, another world. We can still hear the music, but it is sometimes hard to re-inter the frame of mind we had when we first heard it. Hard to go back in time, hard to feel the same sensations we'd once felt. We all owe a big thanks for almost all of it to Mr. David Gilmour.
David Gilmour Then and Now with his Fender Stratocaster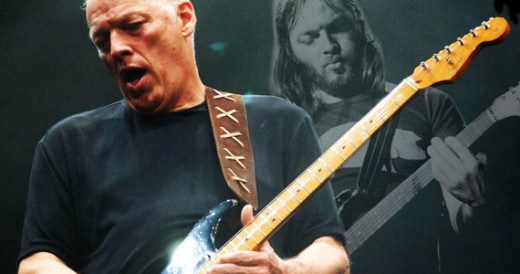 It's transcendental, really, the music of Pink Floyd. David Gilmour's mind has been some places where the rest of us would love to go and visit. He's a transcendental person, a transcendental guitarists, and all of that without passing through plate glass windows, for God's sake.

Oh I've seen Pink Floyd in concert. I drove hundreds of miles to get there, I attended the only Pink Floyd show in their history which was rained out. It was spectacular while it lasted despite the bunk LSD I'd purchased, and despite the cop that grabbed my by my collar, yanking me out of my chair, telling me to not make things so obvious. You're obviously a big deal when you've sold out Rice stadium, but everyone knows about Pink Floyd and the show they put on. I'm a dreamer, and I dream we get the Pink Floyd we all want back someday. Maybe Roger and David can work things out.
David Gilmour and Roger Waters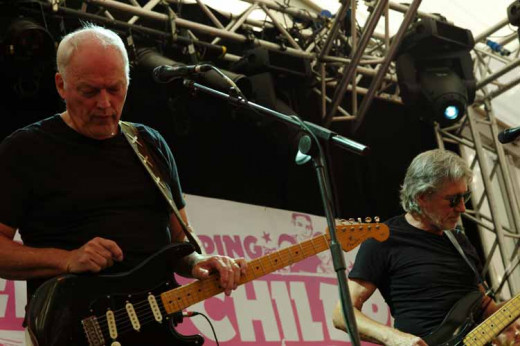 David Gilmour was playing guitar from an early age, and his parents had encouraged him to do so. He'd met Syd Barrett and Roger Waters by the age of eleven, so wonderful to have such creative, imaginative friends at such an early age. David didn't enjoy school a lot though.

He'd been involved in his first recording in 1962, but spent most of the next five years busking and travelling to France. He'd get arrested, and later have to get treatment for malnutrition. There were lackluster reviews of David's performing ability, and then his equipment would be stolen. Poverty wouldn't last for David, and just prior to the turning of the years to 1968, David would be approached by Pink Floyd drummer Nick Mason about joining the band, but soon it was as a replacement for erratic Syd Barrett who's mental condition was not conducive to working with others. The rest, as they say, is history.

From the timeless albums like Dark Side of The Moon, Wish You Were Here, The Wall and the others we true fans also know and own David Gilmour did all the guitar playing and sometimes most of the singing too. Of course in the end David and bassist, lyricist, singer Roger Waters had a falling out. David has recorded some solo albums, and then took off heading Pink Floyd without Waters. While playing guitar in Pink Floyd, he mostly always played the Fender Stratocaster.
David Gilmour Signature Stratocaster

The Guitar Playing of David Gilmour
Pink Floyd was never a group like Led Zeppelin or
Deep Purple
, or anything where the focus of the music seemed to be the guitar; but at the same time David's guitar playing was always essential to the sound of Pink Floyd. Sometimes his guitar solos are so soulful they sound like someone singing, or maybe crying in despair. Comfortably Numb would be a prime example of a guitar sounding like someone talking, crying, and singing all in the same song. David's guitar playing is showcased on the tune beautifully, and it's something resonating with guitarists all over the English speaking world so thoroughly it's ranked in polls as having
the 4th greatest guitar solo of all time.
David, of course, owns a lot of guitars, and why wouldn't he? He is mostly associated with his black Stratocaster, clearly, it is his favorite electric guitar. The instrument is a 1969 model. Like those owned by Eddie Van Halen and like Eric Clapton's "Blackie," this instrument has been modified quite a lot to better suit it's owner.
One of the most peculiar and distinctive things about David's guitar playing is he literally has never seemed to want to show off his chops in any way. David isn't the slightest bit interested in being fast or fancy, he's seemingly only ever interested in making his guitar sing blues in technicolor. The following description I've lifted from David's Wikipedia page because I can't say it better than it's already been said here.
I
n 2006, writer for Guitar World, Jimmy Brown described Gilmour's playing style as "characterised by simple, huge-sounding riffs; gutsy, well-paced solos; and rich, ambient chordal textures." According to Brown, Gilmour's solos on "Money", "Time" and "Comfortably Numb" "cut through the mix like a laser beam through fog." Brown described the "Time" solo as "a masterpiece of phrasing and motivic development ... Gilmour paces himself throughout and builds upon his initial idea by leaping into the upper register with gut-wrenching one-and-one-half-step 'over bends', soulful triplet arpeggios and a typically impeccable bar vibrato." Brown described Gilmour's sense of phrasing as intuitive, singling it out as perhaps his best asset as a lead guitarist
The Fender David Gilmour Stratocaster is NOT a cheap or inexpensive instrument, in fact, it's one of the more expensive signature series Strats there are. I'm pricing these guitars at over five thousand dollars on the web, and sometimes closer to six thousand. This is definitely an instrument for someone who's been well informed concerning its specifications, and knows they want what they're purchasing for having studied such things and played other instruments and then decided upon this one. It's a true professional's guitar, and the specifications are as follows:
Color: Black over 3-color sunburst
Body: Alder, nitrocellulose laquer finish
Neck: 1-piece straight-grain maple, 1983 thin-shouldered "C"-shape
Neck finish: Dark tint nitrocellulose laquer
Fingerboard: Maple, 7.25" radius
No. of frets: 21
Neck pickup: Custom Shop Fat '50s Single-Coil Strat
Middle pickup: Custom-wound Single-Coil Strat
Bridge pickup: Seymour Duncan SSL-5 Single-Coil Strat
Controls: Master Volume, Tone 1 (neck pickup), Tone 2 (middle pickup)
Switching: 5-way blade, mini toggle (addds neck pickup in positions 1, 2, and 3)
Bridge: American Vintage synchronized tremolo with custom-beveled tremolo block, shortened tremolo arm
Case: Custom hardshell case included
Accessories: Evidence Audio guitar cable, custom leather strap, DG pick, David Gilmour's 3-disc Live In Gdansk CD and DVD package, a copy of Phil Taylor's The Black Strat book, polishing cloth, and certificate of authenticity