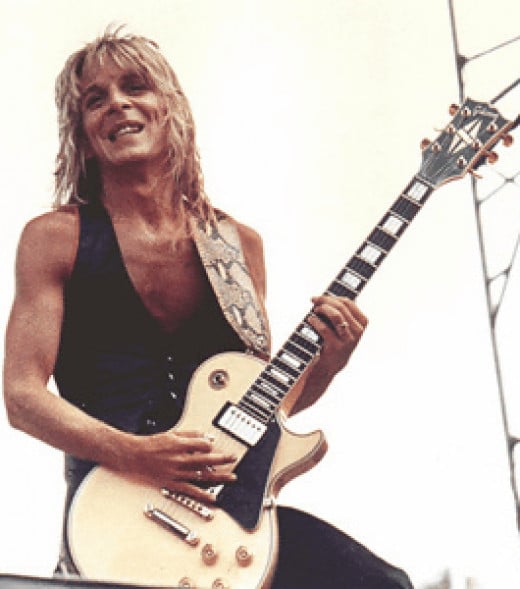 Randy Rhoads and his 1974 Gibson Les Paul Custom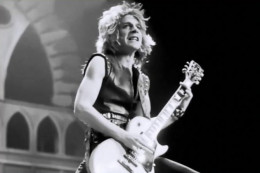 Randy Rhoads, guitar god
More than ten years after
graffiti
started showing up saying
Clapton is god;
the notions of guitar gods were still going strong in popular music; but there were new genres of music now, music which was completely new for all the world, it was something new under the Sun. Oh this music had been based in the electric blues, which had evolved from acoustic blues; but there were all sorts of other forms incorporated into the new music. Some persons will say Ritchie Blackmore was first to devise it, others might claim Clapton had something to do with it, or that it was truly Hendrix, or even Jimmy Page. My personal opinion is the first true heavy metal guitarist was Tony Iommi, and that is interesting because it's so natural how Randy Rhoads became the next person to play for Ozzy Osbourne following Tony Iommi.
Randy Rhoads with Gibson Les Paul black beauty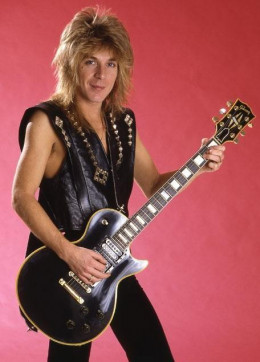 Randy Rhoads, MORE than a heavy metal guitarist
Randall Williams Rhoads was born December 6, 1956; and was a devoted student of classical guitar, but that wasn't where he made his name, and for that, I'm really pretty glad. Oh I love classical guitar, just not as much as Randy did - I probably don't love any music as much as he did, and I really love music. Randy made his name as a heavy metal guitarist who incorporated classical music into it, and he became the leading founder of neo-classical metal despite his very short career.
His career did not start with Ozzy Osbourne, it just ended with him, by accident. Randy had started his career with Quite Riot; but the story doesn't start there either. Randy Rhoads had been playing guitar from the age of just seven years; and how better to make yourself into a master of something, famous for something so difficult as playing a guitar, than to find that you love it early, and keep at it out of the same love, until death. That's what Randy did.
Ozzy gave Randy the spotlight of a lifetime, and in that time period, Ozzy was always IN the spotlight. Osbourne had been a well known figure for a long time in heavy metal, of course, as he'd been the singer for the world's first heavy metal band. Some of my favorite music in all of heavy metal is found on the two studio albums where Ozzy Osbourne and Randy Rhoads play together. The audition for the job with Osbourne was short, sweet, and humorous in a way, Rhoads showed up with his Les Paul guitar, a small practice amp, and was warming up; Osbourne heard the warm up, and needed to hear no more, he passed out drunk. The man with the Les Paul guitar was told just prior, "you've got the gig."
Randy's guitars
Randy Rhoads didn't always play a Les Paul, there's quite a lot of photos and some videos of him playing flying v guitars. If there is anything in this world I know about guitar players, it's that just one guitar, no matter how great a guitar it is, is simply never enough. Guitarist love guitars almost as much as they love to hear music, and play it on a guitar. The polka dot flying v Randy owned and played was created by a man named Karl Sandoval, you can read about him and his guitars on his own website, if you want one, I'm sure he'll make you one. Randy also owned and played some Jackson flying v guitars.
The cream colored Les Paul one usually sees Randy playing in photos and videos is a 1974 Les Paul Custom. According to Wikipedia, the black Les Paul is a
1950s
black beauty, and was only ever used for photographs, which leads me to believe Randy didn't own that guitar. The 50's era black beauties were and are very very prized and expensive guitars. I'd imagine if Randy owned it, he'd have been playing it.
The music on
Diary of a Madman
and
Blizzard of Ozz
was something persons like me who were children at the time were usually not allowed to own, or listen to, so of course I myself had to do both, and did. As I got older, the music meant more to me; and still has some special significance, as I'm sure it does to any and all who'd even wind up on this page. At this point a fond remembrance and demonstration would set me into a fine mood.
The Gibson Randy Rhoads Les Paul Custom

The Gibson Randy Rhoads Les Paul Custom
The short, hot career of Randy Rhoads was like something out of
Logan's Run
.
he lived, and then was just gone in a blink of an eye. While he'd lived he had studied guitar and music his entire life, incorporating classical music into heavy metal music with the most famous and influential heavy metal front man of all time. He got to be on the biggest stages, in front of the biggest crowds, and he recorded some of the most amazing electric guitar music we've still ever seen on some timeless albums persons my age and younger will forever know of, and probably, they'll be remembered longer still.
Classical music melded with what had progressed from heavy electric blues was something Randy did, and did better than anyone else has. The good folks at Gibson Guitars recognize Randy's contributions to music, and to the continuing success of their fine guitars, and so they have commemorated the life and music of Randy Rhoads with the Gibson Randy Rhoads Les Paul. A new Les Paul Custom is not a cheap instrument, and neither is it inexpensive; keep in mind you're looking at something over four thousand bucks to purchase. Specifications for this guitar are as follows:
Vintage Original Spec (VOS) Series
Carved Maple Top
3-Piece Mahogany/Maple/Mahogany Back
Mahogany Neck with Maple Spline
Small D Rhoads Neck Profile with Volute
Ebony Fretboard
24-3/4" Scale Length
1.71" Nut Width
12" Fretboard Radius
22 Medium Jumbo Frets
Mother-of-Pearl Block Inlays
Gibson Super '74 Humbuckers
Schaller M6 Tuners
ABR-1 Bridge
Stopbar Tailpiece
Schaller Strap Locks
Gold Hardware
Randy Rhoads White Finish