Zakk Wylde with his number one "bullseye" Les Paul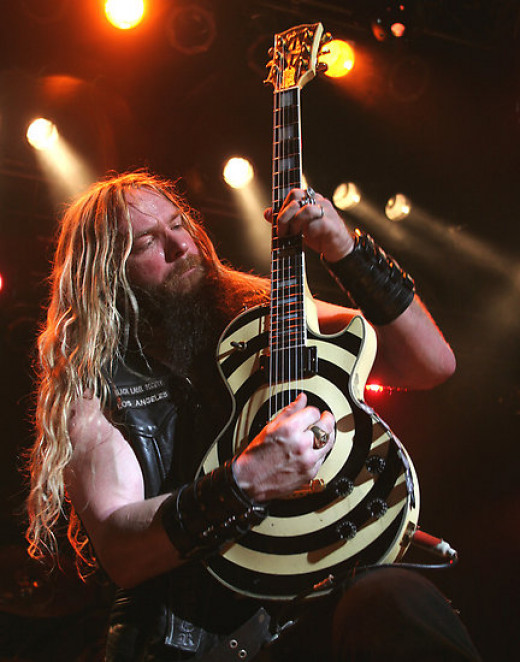 We were all excited about it, as the expectations were very high. Zakk Wylde didn't disappoint us either. You see, when you get the job as guitarist for Ozzy Osbourne, things are expected of you. Mainly, we expect you to be a monster guitarist. Zakk didn't disappoint any of us.

My entire life, and even before I was born, Ozzy Osbourne has been a big deal. He's still a big deal. Ozzy is one of the elder statesmen of heavy metal music. He's "the prince of darkness," or at least he used to be. Following up the distinctive and creative works of former guitarists who'd played alongside Ozzy, men like Tony Iommi and Randy Rhoads - that's not an easy gig. It wasn't too hard for Zakk though, Zakk Wylde was the man for the job, and he still is.

Zakk Wylde is the man with what is probably the most prestigious job in heavy metal music.Jeffrey Phillip Wielandt, Zakk's real name, was born in New Jersey in 1967. He's not JUST the guitarist for Ozzy either, he's a solo artist, an actor, a multi instrumentalist. He's got an official website, of course, and I just linked it for the interested persons.
Zakk Wylde and Four of his Gibson Les Paul guitars.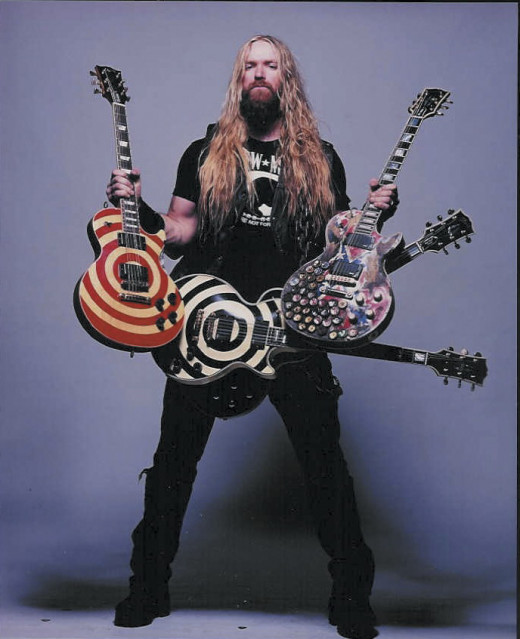 Zakk Wylde -Heavy Metal Guitarist
My idea of it all, this thing we call heavy metal, is that Tony Iommi created it; and almost by himself. Oh Ritchie Blackmore had a hand in it, he helped fill out the soloing ideals of speed metal, he kinda added that to heavy metal all by himself, Tony Iommi was the riff man, the man who defined the outline of the genre. Jimmy Page helped too, of course. Some could even figure Hendrix, Clapton, and even stretch it to where Jeff Beck played a role, I won't argue.

Replacing an underprepared Brad Gillis who had to jump into the least happy role in the guitar playing world, attempting to replace Randy Rhoads, the creator of neo-classical metal guitar; had to have sucked for Brad. Jake E. Lee wasn't a chump by any stretch, but he couldn't replace Randy either, he could replace Brad though. Finally filling the shoes, but without filling them at all, instead, doing his own also badass thing, was Zakk Wylde.

He'd greeted us on No Rest For The Wicked, a studio album where finally Ozzy had another guitarists that truly suited him. Ozzy'd found a guy who could not just fill the shoes left empty by Randy Rhoads, but do his own things with the songs Randy had made so legendary for lovers of the electric guitar, and heavy metal music.

Anyone likely to be reading this knows Ozzy isn't nearly the only outlet for music which the terrific Zakk Wylde has. Black Label Society is on tour at the time of this writing, and in South America metal music is quite popular. Zakk has made numerous appearances on the albums of other bands, and also numerous appearances on stage too. He's even appeared with the Allman Brothers Band filling the roll of Dicky Betts

The Gibson Zakk Wylde Les Paul
The Gibson Les Paul is Zakk Wylde's favorite model of electric guitar, and you can read an article I found where he talks about the
five favorite Les Pauls
he has. Obviously, Zakk has lots of guitars. Zakk's primary electric guitar is a 1981 Les Paul he refers to as "the grail," and it's the black and white vertigo paint job Les Paul one so often sees Zakk playing.
Zakk is sort of a Wylde man, and at one point he'd lost "the grail" in an not an auto accident, but the guitar, in its case, luckily, somehow or another had flew out the back end of Ozzy's tour bus while travelling down the road. Later on, Zakk managed to barter for his instrument in order to get it back. You too can own a Les Paul like "the grail," and in more than just black and white, you will suffer the vertigo, however.
This guitar is neither inexpensive or cheap. It's a five thousand dollar instrument; but if the looks are more important, and the money is just not available, there is a considerably less expensive Epiphone version. The Gibson Zakk Wylde Les Paul specifications are as follows:
Color: Black and antique white bullseye
Top: Carved maple
Body: Solid mahogany
Multi-ply black/white binding on top & back
Gold hardware
Nashville TOM bridge, stopbar tailpiece
3-piece maple neck, no finish
22-fret Richlite fingerboard
Pearl block inlays
Multi-ply white/black binding
Rounded neck profile
24-3/4" scale length, 1-11/16" nut width
Kidney bean tuners
EMG-81 and EMG-85 humbucking pickups
Controls: Two volume, Two tone, 3-way selector switch
Brite Wire .010 strings
Includes certificate of authenticity
Custom Shop case included