The seemingly ageless Jeff Beck with one of his Fender Stratocaster guitars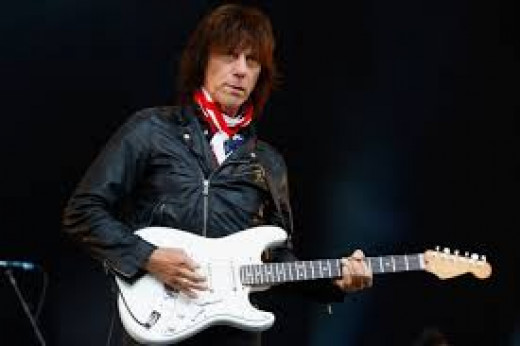 Jeff Beck - One of the four pioneers of the new music which became hard rock, heavy metal, and more!
From the late 1960s the English speaking world saw the emergence of a new kind of music, a kind of music which would change popular music forever, and is nowhere near done doing so. This new music was based in the electric guitar, and primarily, there were four major individuals involved in it all - but of course there were also a lot of others. My perception of the matter is the four primary guitarists were Jimi Hendrix, Eric Clapton, Jeff Beck, and Jimmy Page. Of those four Hendrix is gone forever, but we've still got Clapton, Beck, and Page with us today.

The four guitarists, all from England save the black American one who dominated them all during his lifetime, all made music rooted deeply in African American blues music from the Southern United States, at least for a time. Hendrix died, the others lived on and their music evolved. Of the three, Jeff Beck evolved the furthest. Jeff Beck would go on to make music far removed from heavy blues. Jeff Beck would become a true fusion guitarist.

I'm incredibly jealous of persons such as Jeff Beck. I'll tell you why. A story on his Wikipedia page tells a tale of Jeff at six years of age hearing an early Les Paul song. He'd asked his mother what that strange sound was, and his mother had told him it was an electric guitar, and the thing was nothing but tricks. Jeff was reported to have said, "that's for ME." Well, it certainly was for him. How amazing to know what you wanted to do in this world, or be known for at a young age like that!
Jeff Beck with a yellow Fender stratocaster.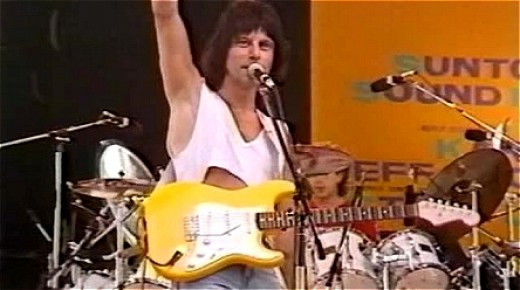 Jeff Beck switched to the Fender stratocaster, and now uses one almost exclusively
The Yardbirds wasn't Jeff Beck's first musical group, but it is the first significant one he was a part of, and most of the notable songs by The Yardbirds were written during Beck's tenure with the group. Jeff Beck wasn't a particularly happy camper with The Yardbirds, however, as he was then known to have an explosive temperament, and was forever bent on perfection with his playing. He didn't control the band, and didn't have as much influence as he would have liked, as he wasn't an original member, he wasn't even first choice to replace Eric Clapton in the band. Oh for a short while both Jeff Beck and Jimmy Page were both in The Yardbirds together. For a time Page played bass, and then for a time both Page and Beck were on guitar, and I bet those concerts were fun to see.

Only Jimi Hendrix was truly forever associated with the Fender Stratocaster as a guitarist. Clapton, Beck, Page, they all played both Fender and Gibson guitars at some point or another, and other makes of guitar too. Page mostly settled on the Les Paul, Clapton and Beck mostly settled on the Stratocaster, as Hendrix had. Oh some of Jeff Beck's most known and loved music was originally recorded on a Les paul, things like the album Truth, and Blow By Blow were dominated by Beck's Les Paul, but when Beck went into full on fusion with the Wired album, he switched to preferring the Fender Stratocaster forever.

Another of the great bluesmen, a true one instead of an English import, was Buddy Guy. Buddy Guy has been playing stratocaster guitars since before they were so commonly used. Buddy Guy and Jeff Beck will be touring together here in 2016. Expect a great musical evening, and go see the two legends while you still can.
Jeff Beck and the Fender Stratocaster
While Jeff Beck has never used the Stratocaster exclusively, the fantastic 1976 album, Wired, shows he'd switched to the instrument as his preferred guitar; and from there on out he'd most often perform and record using one. One of the more unique things about Jeff and his guitar playing came about at some point during the 1980s. Jeff stopped using guitar picks or plectrums, doing all the work with his fingers while still playing the same large body of songs and styles as before.

In 2007 Fender guitars honored the legendary Jeff Beck with their Jeff Beck Artist Signature series Stratocaster. This guitar features some specific specifications which Jeff uses to make the amazing variety of styles and sounds only Jeff Beck can seem to produce. You can still purchase a new Jeff Beck Strat, and of course there are some on the used market as well. This particular model of instrument is often in surf green or Olympic white, but it need not be, one can custom shop order the guitar in the color of their choice.
Fender Custom Shop Custom Artist Series Jeff Beck Signature Stratocaster Electric Guitar In Surf Green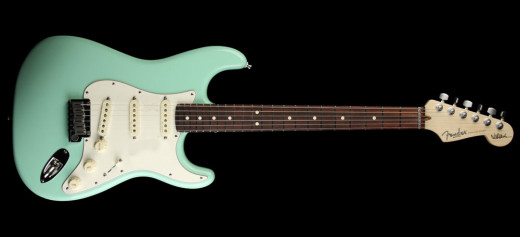 The Fender Custom Shop Custom Artist Series Jeff Beck Signature Stratocaster
So what's special about the Jeff Beck Stratocaster? Well, it's different from the others in a few ways, ways which please Jeff Beck. The Jeff Beck Signature electric guitar features a thinner C-shaped maple neck with a rosewood fingerboard and a contoured heel for easier access to the higher registers, and Jeff often accesses those "higher registers."
Further, it's wired with dual ceramic Noiseless pickups and has a 2-point synchronized tremolo with stainless steel saddles, LSR roller nut, aged knobs and pickup covers, and Beck's signature on the headstock. The Fender guitar kit includes vintage tweed case, strap, cable, truss rod adjustment wrench, and saddle height adjustment wrench. Further specifications for this fine Fender electric guitar honoring a great guitarist are as follows:
Made in U.S.A. by Fender Custom Shop
Custom Artist Series
Alder body
Maple C-shaped neck with satin polyurethane finish
Rosewood fingerboard with 9.5 radius
22 medium jumbo frets
3 dual-coil ceramic Noiseless pickups
Master volume, 2 tone controls
5-position pickup switching
American 2-Point Synchronized Tremolo with 6 stainless steel saddles
Fender/Schaller Deluxe cast/sealed locking tuning machines
Chrome hardware
3-ply white pickguard
25.5" scale length
1.6875" (43 mm) nut width
Contoured heel for easier access to upper frets
LSR roller nut
Aged knobs and pickup covers
Jeff Beck's signature on headstock
Includes case