Jimmy Page with Led Zeppelin, and his famous double neck Gibson SG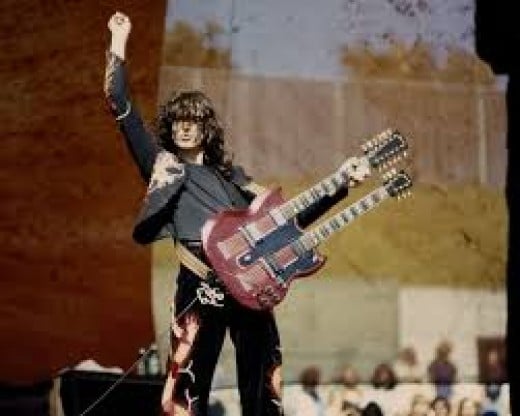 John McLaughlin and the Gibson EDS-1275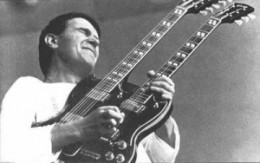 Jimmy Page and the Gibson Gibson EDS-1275, the double neck SG guitar, two musical icons.
It's one of the most iconic, most famous, most revered guitars in the world, right? Well, facts are, Jimmy Page used this guitar for so few songs it's hardly even notable in mentioning the thing insofar as his body of music goes. What it is, is a stage guitar, a damned good one. Page used THIS guitar every time Led Zeppelin played
Stairway To Heaven
live. No,
Stairway to Heaven
wasn't the only song page used the double-neck SG for, he also used it for
The Rain Song
and
The Song Remains The Same
.
If you ever thought about becoming an icon, a "god" of music; then Jimmy Page should sure give you some pointers on how to go about it. For starters, you have to be different. You've got to have your own thing going to where everyone identifies things with you. The Les Paul had been around for a long time, and Page was hardly the only person to play that instrument, but when he busted out the Gibson EDS-1275, the double neck SG; well, THAT thing was something which everyone identified with pretty much one musician, Jimmy Page.
The guitar itself is a 1968 Gibson EDS-1275, Page, probably the only person who served as a representative of the thing, an unofficial salesman, except I believe the amazing John McLaughlin had one too, and
Page had taken guitar lessons from John once.
It's not particularly important, but I own the magazine with the particular interview where it was discussed, it was
Musician
magazine.
MUSICIAN:
"John McLaughlin gave you guitar lessons?"
PAGE
: "
He did, that's true. It was great. He could hear things which Icouldn't hear. He certainly taught me a lot about chord progressions andthings like that. He's fabulous. He was so fluent and so far ahead, way outthere, and I learned a hell of a lot. I must have been about 20."
There's really no question as to who the most technically proficient guitarist is, It's John McLaughlin,Jeff Beck considers John maybe the world's best guitarist. McLaughlin is maybe the only guy who actually owned and played not just one double neck solid body, but two. He's also got a
custom made one based on the design of the Gibson EDS-1275, you can read about it here
. Page definitely took some lessons from John, so maybe Page got the idea to use this Gibson EDS 1275 SG double neck from John? I'd say it's very very likely.
Robert Plant and Jimmy Page at Madison Square Garden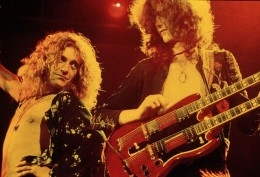 When I was a kid, I thought of the members of Led Zeppelin as absolute gods of music. I've never been able to place exactly what it was about the music which captivated me so very much, but it's there, and though I'm quite a lot older now, I can still catch a glimpse of what I used to feel about it all sometimes. I never thought of Jimmy Page as "the best" guitarist, but I was certain he'd tapped into something in the spiritual realm or whatnot that I desperately wanted to be a part of, something very mystical, something timeless. I still think that way too. The only thing that has changed for me is I get some of those same feelings from very different artists and art forms too now.
Oh I'd watched
The Song Remains The Same
a hundred times or more. Loved it, but knew from things I'd recorded off of the radio it wasn't really an impressive concert for them, it was just the one that got made into a film. Their concerts were epic in scope and in length; and how drained they must have all been to have played so intensely and for so long on stage! Probably every concert after Led Zeppelin IV was produced included the usage of the double neck Gibson EDS-1275. When
Houses Of The Holy
was produced, well then, we've two more songs as reasons for the Gibson EDS-1275 to appear on stage, and it was good.
Musically, Led Zeppelin did a lot of very interesting things, and there were very few songs that ever sounded remotely like another song of theirs. Those four persons were and the three left now ARE highly creative musicians. The three songs Page used the Gibson double neck SG electric guitar for were all three very unusual songs; and there's little to anything you'll hear like any of them - although there are tons of
Stairway To Heaven controversies
. I'm not myself big into Led Zeppelin controversy, as I tend to believe all of it is based in jealousy of the band's success - and that no man or group of persons could ever own a chord progression.
Don Felder and the Gibson EDS-1275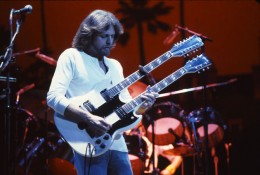 The Gibson EDS-1275 Jimmy Page
So what can we say about the Gibson EDS-1275? Guitar player magazine hailed John McLaughlin's use of one through a one hundred watt Marshall amplifier as one of the fifty greatest sounds in guitar playing history. Jimmy Page's EDS-1275 though, is a bit different from John's, and others which had been produced from 1963-1968, which was the first run of production for the instrument. When Page decided he'd need a guitar like the one in question, Gibson had stopped producing them, and so he had one custom made for himself. The differences between Page's guitar and McLaughlin's are Page's has two solid mahogany necks, whereas the production guitars from 1963-1968 had three piece maple necks. Page's guitar also had the tailpieces in a different position, and this supposedly increased the guitar's sustain, and he had his made with T-top humbucking pickups.
Besides Jimmy Page and John McLaughlin, other outstanding guitarists to play the EDS-1275 are none other than Alex Lifeson of Rush, and Eddie Van Halen. Don't forget Don Felder of The Eagles, when you hear
Hotel California
, that is the Gibson EDS-1275! In 2007 Gibson produced the Jimmy Page signature model, and only 250 of those were produced. The guitar is available, but it is not a production instrument, it requires a special order, and if you order one from Gibson, they will gladly make one for you. Both Epiphone and Ibanez make similar guitars. Here's some specifications for the instrument:
Body & Hardware
Period-correct solid mahogany SG-style body
Dark Cherry finish with walnut filler
Chrome hardware
Chrome ABR bridge with chrome thumbwheels
Schaller Strap Locks (chrome)
Period-correct 5-ply pickguard
Neck & Headstock
One-piece mahogany necks
20-fret rosewood fingerboard
Corian nut
Period-correct headstock style for 12-string
Page profile neck
24-3/4 in. scale length, 1-11/16 in. nut width for 6-string, 1.715 in. for 12-string
Push-in bushings, double band nickel plate tuners
Page fretwire
Electronics & Strings
Page pickups
Black speed knobs with dial