Stevie Ray Vaughan with his famous Fender Stratocaster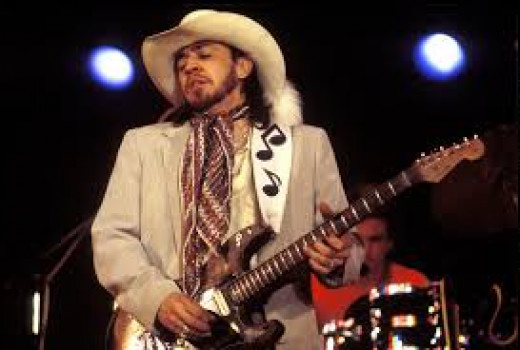 Stevie Ray Vaughan - One of the BEST of the modern blues guitarists
When it comes to any sort of musician, writer or speaker of any kind who starts talking about things like "best of all time," well, it's complimentary and such, but most often someone is really only ever telling you, "the person was my favorite." There are just too many styles of music for someone to be one of those best of all time persons unless we narrow the scope down considerably; and should we do so, we are then to a place where maybe an opinion can be judged for what it is, an educated opinion based on such and such criteria, or a bad opinion.

Stevie Rah Vaughan, I submit was one of the finest electric guitar bluesmen ever; one of - I won't say he's the best, because there's quite a lot with quite a lot of highly individual styles; and my opinion is just that, an opinion. I am a Texan, and so my opinion might be influenced by this, seeing as how Stevie was a Texan, and seeing as how I've even visited his grave a few times; but you see where I'm at here, I hope; and let us face it, the man was a stunning guitarist and there's nobody who's up and taken his place and become a popular international electric blues guitarist on such a scale since his passing.

Vaughan was easily one of the greatest slingers of the six string Stratocaster there ever was, and out of him the instrument came with more twang, and louder twang, and a more energetic twang than I ever heard from anyone else; it was damned spectacular.
A Young Stevie Ray Vaughan with his famous Fender Stratocaster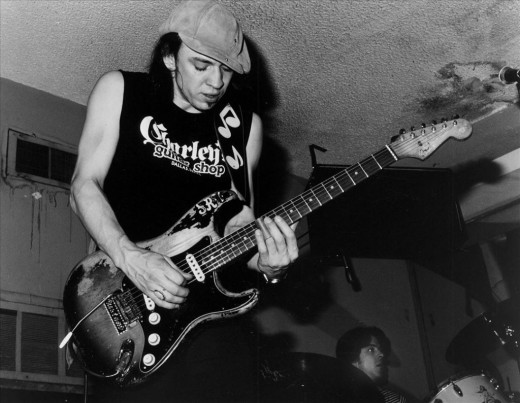 Stevie Ray Vaughan - One of the Texas master guitarists
Stevie was born and raised in Dallas, Texas; began playing guitar when he was just seven, and would dedicate most of his life to it. He's similar to
Jeff Beck
in that way, a man who knew what he wanted to be known for, what he wanted to do. Later on when he'd earned all the same sort of respect Jeff had, they'd tour together, and persons like me can only reek of the jealousy we have for persons lucky enough to have seen those concerts.
In the
1980s
when Stevie was becoming well known, he was, of course, becoming known as a super hot blues rock guitarist out of Texas; but most of the popular rock music world was way into a very different sound; Stevie was busy reviving the blues while at the same time reviving the respect for the Texas music scene. Chris Gill of
Guitar World
commented:
"Stevie Ray Vaughan's guitar tone was as dry as a San Antonio summer and as sparkling clean as a Dallas debutante, the product of the natural sound of amps with ample clean headroom. However, Vaughan occasionally used pedals to augment his sound, mainly to boost the signal, although he occasionally employed a rotating speaker cabinet and wah pedals for added textural flair."
What the man from
Guitar World
didn't mention was that part of the big Stevie Ray Vaughan sound was Stevie used thicker strings than nearly anyone else anywhere was using, he even had a wound G string on his guitar, and that's virtually unheard of, but so was the very fat sound Stevie was getting from his Stratocaster.
The late, great, Stevie Ray Vaughan with his Fender Stratocaster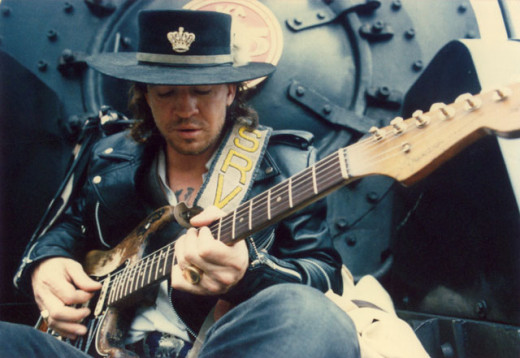 The death of Stevie was tragic for it being just bad luck on his part, he was just a passenger, had changed his life altogether from where he'd been in his dark days, and was touring with another stratocaster slinging legend, Eric Clapton. He'd returned to the top of his game.
"He seemed to come out of nowhere, a Zorro-type figure in a riverboat gambler's hat, roaring into the '82 Montreux festival with a '59 Stratocaster at his hip and two flame-throwing sidekicks he called Double Trouble. He had no album, no record contract, no name, but he reduced the stage to a pile of smoking cinders and, afterward, everyone wanted to know who he was." -
James McBride
But then he was just gone, years later, but after leaving us with lots of great music. I think we should hear some of it here.
Stevie's Fedner Stratocaster
While Stevie Ray Vaughan has and has used a lot of guitars, there is definitely just one which people will always remember him with; and it is a Fender Stratocaster. The guitar wasn't factory specifications, it was more a Frankenstein, put together from parts of others. The instrument is a 1962 body with a 1961 neck, and pickups from 1959. Stevie called it or referred to it as a 1959 Strat. Like a lot of other great guitarists, he thought of his guitar in terms of a woman he loved.
Only persons like Hendrix, Beck, and Clapton have really done so much for the Fender Stratocaster and
1960s
to present day blues music as has Stevie, and so of course Fender has recreated Stevie's guitar. Facts are the guitar was being collaborated with Stevie on just before his death in 1990. One thing which is very important here to anyone attempting to sound like Stevie Ray Vaughan on a Fender Stratocaster is to remember
Stevie Ray Vaughan used thicker strings
than probably any other guitarist playing a Strat, and that sound isn't going to be reproduced without duplicating the guitar string size. Here are the specifications for the instrument which is available today:
Color: Three-color sunburst.
Body Type: Solidbody electric.
Finish: Polyurethane.
Neck Wood: Maple.
Neck Shape: Deep, thick oval with 12-inch radius.
Body Wood: Solid alder.
Machine Heads: Fender / Gotoh vintage style tuners
Fingerboard: Pao ferro.
No. of Frets: 21.
Position Markers: Dot inlays.
Pickups: Three Texas Special single coils.
Controls: Master volume, two tone.
Bridge/Tailpiece: Reversed (left-handed) American vintage synchronized tremolo.
Pickup Switching: Five-position blade switch.
Hardware: Gold.
Case: Vintage tweed case.
Scale Length: 25.5 inches.