Slash with two of his Les Paul guitars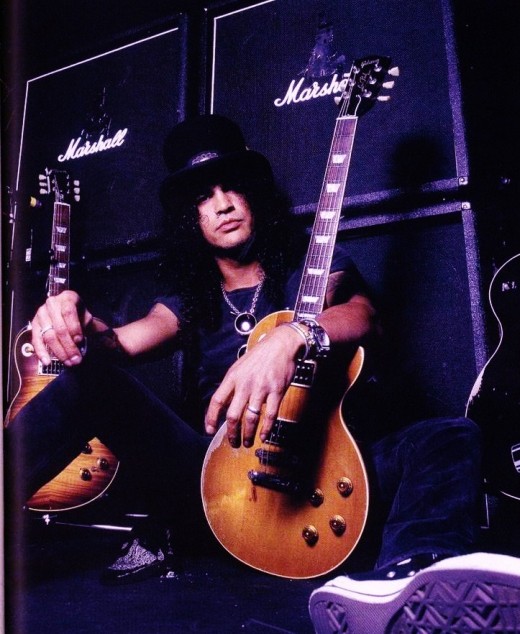 I was a teenager in the late
1980s
and early
1990s
. I'm here to tell you there wasn't much to cheer about at the time with the rock or metal music scene. Mostly there was super lame glam metal or hair metal. Lyrics were aimed at 8th grade minds; there was no passion behind any of it, and only 3 power chords to speak of. Then, Guns N' Roses came along, and they inspired all of us, all the folks like me at all were suddenly interested again, in rock music. It was like The Rolling Stones had been reincarnated with a mixture of Led Zeppelin and AC/DC included with the mix.
This Appetite For Destruction thing, boy did I love it. I was nowhere nearly alone either. This music was heavy on the anthems for my generation. It sold well over thirteen million copies, and it is still selling, of course. Best thing of all, for me, was how these guys in this band were't dressed like women, they weren't trying to be pretty. They weren't pretty, they were rough. Testosterone, yeah buddy, this stuff was
HEAVY
on the testosterone.
Axl Rose and Slash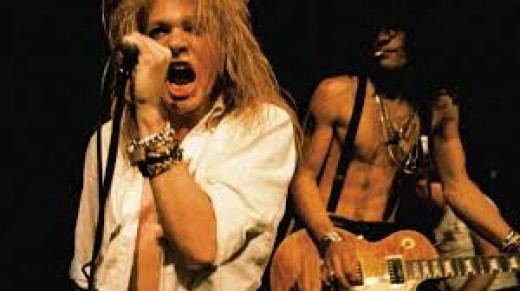 Guns N' Roses
From 1987 to 1993 Guns N' Roses would enjoy so much success they apparently couldn't handle any more afterwards. This
Chinese Democracy
business shouldn't ever even be referred to as something like the same thing. During the six golden years for the band though, it was anthem after anthem, and loads of album sales. The music is all classic rock now. A hundred and fifty million albums sold isn't something to sneeze at, you know.
It was all like a renaissance of the classic rock from the
1970s
with loads of glorious punk and heavy metal influences mixed in with taste and crunch. Slash was the man delivering the most of it, he was
the man
with the Les Paul, of course.
Saul Hudson was born in London in 1965. He's a dual citizenship, bi-racial superstar guitarist. Who says white America is racist for disliking Obama? We all love Slash.
Guns n' Roses hasn't even been the only superstar band he's been a part of. Axl Rose not even the best vocalist he's played guitar behind. With the death of Scott Weiland, however, Axl may prove to be the best avenue for Slash to go down in order to showcase his musical skills. Slash isn't done being a great guitarist, He's got a nice website of his own, of course, and you can follow Slash on Facebook and Twitter too if you like. He might talk to you, even. I'm in the mood to hear some music, myself.
Guns N' Roses is planning a tour, so this should certainly be a big year for Slash. One suspects a good year for Slash will translate into a good year for the people who build and sell Les Paul guitars. I can't help but imagine millions of mature fans and younger ones as well will attend these concerts. We should always cheer on folks who lived so close to self destruction and somehow pulled through it all.
Slash with Scott Weiland and Velvet Revolver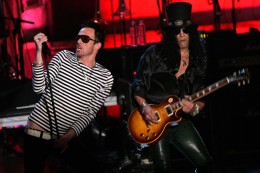 Slash's other bands, and Velvet Revolver
Guns N' Roses died the very minute Slash decided he couldn't work with the singer any longer. Don't kid yourself none about it. Axl Rose is washed up, and needs a massive exercise and diet plan to even pretend to be someone again while he's still young enough to bother with such ideas. Slash, however, is still on top of his game. He said long ago anyone looking could draw a direct line from his musicianship to that of Jimmy Page; so it's plain to see he's perfectly able and knows how to make music which can be desired many years after its creation.
Slash's Snakepit was a success with critics and in album sales. It's Five O'Clock Somewhere sold over a million units Slash's Blues Ball was next, and then a return to "the snakepit;" finally, with other former Guns N' Roses members and former Stone Temple Pilots singer Scott Weiland, Slash had some real success in a solid and seemingly stable band again with Velvet Revolver.
Slash has also recorded a solo album. He's done a lot of sessions work, and appeared on albums tributing Jimi Hendrix; and collaborated with Lenny Kravitz as well. He spends time and money on Little Kids Rock students- a charity seeking to revitalize music education in low income schools. Slash has been named "best guitar player" in several polls for the year in different years, and his riff for Guns N' Roses Sweet Child Of Mine has been named "best riff ever."
Slash and the Gibson Les Paul.
Slash has plainly stated the Gibson Les Paul is, for him, the single best guitar for his electric guitar playing. He's rarely ever seen playing anything else. Gibson guitars readily acknowledges the fact that Slash and
Zakk Wylde
helped bring the instrument back into the forefront of use in recent years.
Slash loves guitars, and he loves the Les Paul above all. Slash collects guitars, and especially Gibson Les Pauls. He owns enough fine guitars to where the entire collection has been appraised in the range of over a half million dollars, and
you can see his collection right here
.
Some of Slash's Les Paul and additional guitar collection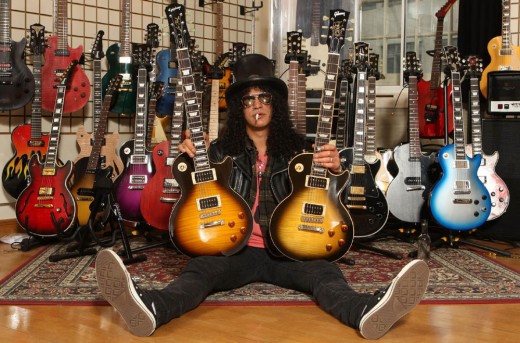 The Gibson Slash Signature Les Paul
For all Slash has done for heavy rock music, and for Gibson guitars, Gibson has commemorated it all not just once, but many times. There are quite a lot of Gibson Slash Les Paul guitars available, and I do mean different production instruments entirely.
The best page I've found on the world wide web for the list to date can be seen here.
For information about the
exact Les Paul guitars used to record the legendary Appetite For Destruction, have a look at this page.
So far, the instrument with the most units produced has been the 2008 Slash Les Paul Standard, a beautiful tobacco burst finished instrument. 1600 of these were produced and sold. What one will notice first in the many Slash Les Paul models is the Seymour Duncan Alnico 2 Pro Slash pickups are used in exactly all of them. Specifications for the Gibson Slash Les Paul Standard are as follows:
- Body Type: Les Paul
- Body Material: Mahogany
- Top Material: AAA flame maple
- Body Finish: Nitrocellulose
- Neck Material: Quartersawn mahogany, Set
- Neck Shape: Special Slash neck profile
- Scale Length: 24.75"
- Fingerboard Material: Rosewood
- Fingerboard Inlay: Trapezoids
- Number of Frets: 22 medium-jumbo frets
- Bridge/Tailpiece: TonePros Tune-o-matic bridge, Stopbar tailpiece
- Tuners: Vintage-style tuners
- Number of Pickups: 2
- Neck Pickup: Seymour Duncan Slash signature humbucker
- Bridge Pickup: Seymour Duncan Slash signature humbucker
- Controls: 2 x volume, 2 x tone, 1 x 3-way switch