Dicky Betts With His Les Paul Gold-top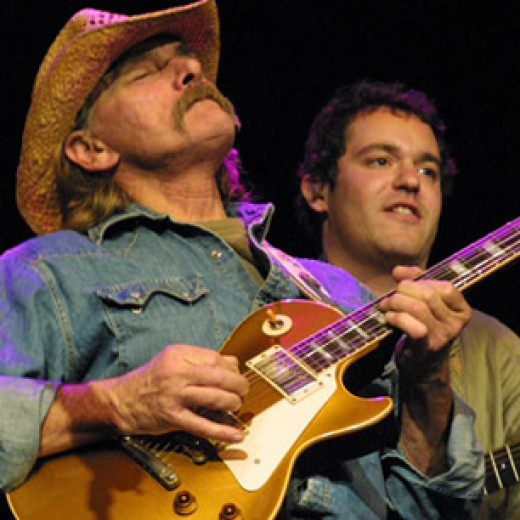 Dicky Betts - With The Allman Brothers Band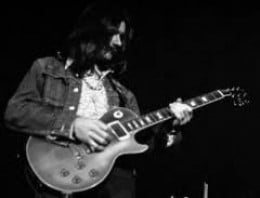 For Dickey Betts, only a Gibson was good enough.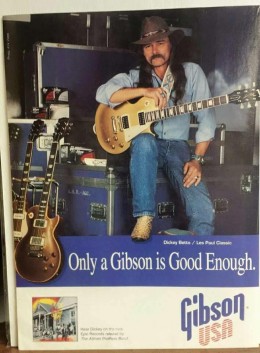 Dicky Betts and his Southern Style
I don't know how to say it except to say Dicky Betts has always meant a hell of a lot to me, his music is so beautiful it has brought me to tears, and though it's damned unlikely I ever meet the man, I absolutely feel as though I owe him a bit of tribute. He's added special things to my life, you see? My very life would be less without him having also lived during my time. He's not just lived, he's thrived, and he has made music, timeless music, music fit to entertain the gods themselves.
Was there ever a man less impressed with how fast someone else could play on a guitar? Was there ever a man more into making the Les Paul
SING
than Dicky Betts? Not that I know of.
Dicky Betts! Do you know him? Do you know what he's done? He's made the most melodic singing Les Paul songs in all of history so far, he may have well been born in the backseat of a Greyhound bus, and rolling down highway 41, no less, he is Dicky Betts, and he is one of my outright musical heroes. I think of him as someone along the lines of Eric Clapton for persons from the South, as the Southerness of his music is something persons like myself can relate to a lot more than whatever an Englishman could bring here.
YOU'RE MY BLUE SKY, YOU'RE MY SUNNY DAY, LORD, YOU KNOW IT MAKES ME HIGH WHEN YOU TURN YOUR LOVE MY WAY!
Are you even capable of saying something so beautiful? Have you ever said something so original, so profoundly adoring of another human being? Nope, you probably have not, not that I'm writing anyone off, not particularly; but sometimes there is more genuine expression done by doing things more slowly, more simply. The music of Dicky Betts isn't simple at all, it just sounds that way because his guitar playing sounds like singing; but don't be fooled, some of this is stuff involving odd time signatures, and changing time signatures.
How to describe the style? Well,
Southern
, about covers it. He's not country, he's not blues, he's not jazz, he's all of those things. For all things Dicky Betts, for fans like myself, he has
his own website.
Dicky Betts and the Gibson Les Paul
Forrest Richard "Dickey" Betts
was born on 12 December, 1943, and is a founding member of the Allman Brothers Band - providing an amazing contrast in styles with either Greg or Duane Allman's singing and playing/compositional styles, the group became and is legendary, especially in the South, of course. The music of the Allmans and Betts is as Southern as chicken fried steak and an apple pie. Betts stylistic composition, singing, and playing was and is just more country esque; but with a lot of volume and scream to it all too.
Following the death of Duane Allman, Dicky Betts had to double up on guitar duties with the legendary
Allman Brothers Band
; while also singing and writing some of their most loved songs, and he still does that, and more, today; although not necessarily with what is now the Allman Brothers Band.
Betts' style of guitar playing is personal and unique. He's one of those guitarists, like Eric Clapton, who one can recognize near instantly when hearing it even without knowing the song at all.
There's a terrific lesson page for some of the most well known Betts compositions here
.
So far as guitars go, Betts hasn't always been associated with the Gibson Les Paul, but it's pretty well common knowledge "Goldie" is the instrument you will most often see and hear him playing, and Goldie is a 1957 Gibson Les Paul. Before acquiring Goldie, Betts had always played a 1961 Gibson SG, which had been given to him by partner guitarist Duane Allman. In more recent years, Betts has done an on again and off again endorsement for Paul Reed Smith guitars; which is pretty common with persons who also play the Gibson Les Paul. The guitar isn't the only instrument Betts can play, and play well; and the usual suspects of stringed instruments he also can play and does own, were they guessed at, would probably leave you correct.
Gibson's online website has done a really nice write up about Betts
, his guitars, and the music; and you should definitely read it if you've enjoyed this one.