Angus Young with his Gibson SG, and newest frontman, Axl Rose.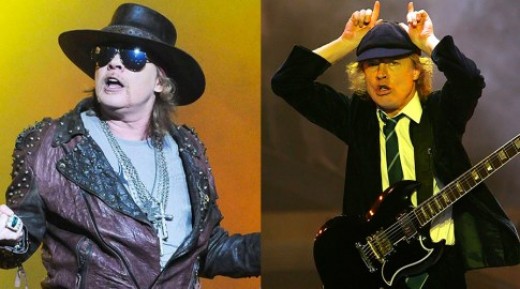 The Music of AC/DC - it is rebellious music, but it is all in good fun.
Growing up in a fundamentalist Christian home, one like me would have thought of AC/DC as something likened to a band which were a total symbol of rebellion. Of course I loved them, got
a hold of
all those old cassette tapes I could, and listened to the music as often as I could without being obvious about it all, except for the times when caring about the inclinations of the parents were out the window.
I really doubt someone from a non-Christian home could have enjoyed anthems like
Highway To Hell
so much as someone like I did, but what do I know? There are casualties along the way regardless of what path in life or in music one takes, and this is just how it goes. If this life is just a ride, then we should have fun along the way, and should we be able to cheer another soul on this ride, then that is a worthy thing to do.
The story here doesn't start in Australia like I'd have thought, it starts in Scotland, and in the year of 1955, that was when our Angus McKinnon Young was born. He's gone on to be ranked in popular music magazine polls as the twenty fourth greatest guitarist of all time. The band AC/DC has sold over seventy one million albums. Needless to say Angus Young is a very successful guitarist. He didn't go it alone though, he's mostly always had his brother there with him. As time has passed, however, Malcolm young has retired.
Angus and Malcolm Young - The Guitarist Brothers of AC/DC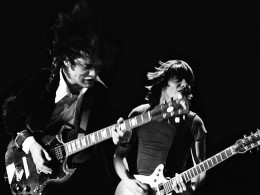 Angus Young with the late Bon Scott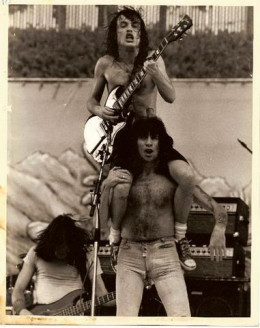 Angus Young - AC/DC and the Gibson SG
I got out and got a Gibson SG that I played until it got wood rot because so much sweat and water got into it. The whole neck warped. I bought it second-hand, it was about a '67. It had a real thin neck, really slim, like a Custom neck. It was dark brown
-Angus Young
After playing with a couple bands which did nothing, in 1973 with his older brother Malcolm, Angus formed AC/DC. It's been over forty years since the band's formation, and they're planning to tour again at the time of this writing. That is quite a long, successful career; and no doubt the brothers Young and the rest of the band could retire rather comfortably at any time. Instead, they want to play in front of adoring crowds, as the music is really just that fun for all of us.
There have been some major bumps down the road for AC/DC. It's hardly been fun and music alone. After six studio albums, and their most successful one yet at the time,
Highway To Hell
; singer and friend Bon Scott would die of alcohol poisoning. The rest of the band wondered could they go on without the distinctive vocal style of Bon Scott, which was essential to their sound and success. Finding a replacement would NOT be easy. Angus has said a lot about it, and you can read
the Guitar World interview
here.
AC/DC's drummer has caused them loads of problems. Malcolm Young has had to retire, and now, Brian Johnson is suffering from extreme hearing loss. But the band, headed by Angus Young, soldiers on. The newest news is the former Guns N' Roses frontman, Axl Rose, is taking over for Brian Johnson, who's doctor has advised him against further touring. Alas, Rock and Roll music is a dangerous occupation. While some fans are clearly going to be unhappy with the changes, for others, the experience of an AC/DC concert is now something altogether new. At this late date, who could now doubt the commitment to driving the highway to hell?
Brian Johnson and Angus Young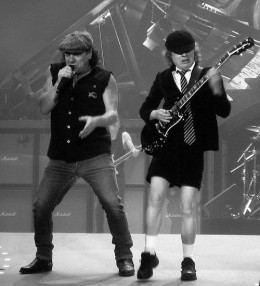 AC/DC - The Band That Wouldn't Die
"I don't like to play above or below people's heads. Basically, I just like to get up in front of a crowd and rip it up."
-Angus Young
While the album
Back In Black
is more or less a tribute to the late Bon Scott and to the resurrection of AC/DC with new and powerful frontman, Brian Johnson, it also propelled the band to greater stardom and sales than they'd imagined were possible. The parents of Bon Scott had urged the band to continue and fifty million albums were sold, the second highest sales for an album in all of history still.
Additional honors received for the album included making the
PMRC's "filthy fifteen" list
for offensive lyrics, assuming you were of the offensive mindset of an offensive person like Tipper Gore, of course. Yes the
1980s
were a hell of a time to be alive. It was high time for fundamentalist Christians to have their homes terrorized with science and angry music. It's still time for the both of those today too.
The Gibson Angus Young Signature SG Guitar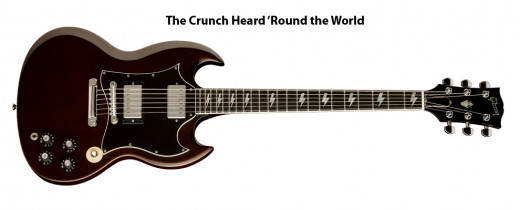 Gibson Angus Young SG Electric Guitar
When you hear Angus Young playing guitar the most obvious thing, the single most obvious thing is that sound you are hearing is that of a Gibson electric guitar, the sound has shook me all night long before, and many another soul too. It's a classic sound, straight up pentatonic blues scales on Gibson electric guitars and amplified by Marshall amplifiers.
The sound of AC/DC is rebellious. It's party music. Critics say their music is overly simple. None of their fans care what the critics say. I doubt any critics of AC/DC have made as much money with their criticism as the band has with their simple hard rock or metal music.
"It's just rock and roll. A lot of times we get criticised for it. A lot of music papers come out with: 'When are they going to stop playing these three chords?' If you believe you shouldn't play just three chords it's pretty silly on their part. To us, the simpler a song is, the better, 'cause it's more in line with what the person on the street is."
-Angus Young
Angus Young always plays a Gibson SG guitar. He and
Tony Iommi
are the world's ambassadors for the Gibson SG. The two of them have their own Gibson signature models of SG available widely, you can own one. The template for the Angus Young SG is Young's own 1970 SG standard. Angus designed his own pickup for the signature series, it's the bridge pickup, the humbucker on the neck is a 1957 classic style. It's a pretty affordable electric solid body Gibson for a signature model,I'm seeing these online for around two thousand dollars. Specifications are as follows:
A classic solidbody electric guitar that represents one of the most iconic guitarists and bands in rock history: AC/DC
Based on a standard 1968-style SG that's been modified to meet Angus Young's personal modifications
Fast SG slim profile mahogany neck sports a narrower-than-standard nut width to make fretting chords easier
Bound rosewood fingerboard features AC/DC signature lightening bolt inlays
Combination of a '57 Classic humbucker at the neck and an Angus Young Signature pickup at the bridge deliver the hard-hitting sound of classic rock
Hardshell case included