The Georgia Guidestones are a monument to the New World Order, a one world religion, and Humanism. What does this mean for YOU? Well, if you look at what those guidestones say, you will easily see that they foretell your death, your families non existence, and are a monument to eugenics. How wonderful! Let's destroy the guidestones, and do what should be done with everyone involved in the New World Order, and it's hideous plans for humanity.
The Georgia Guidstones to Our Collective Deaths.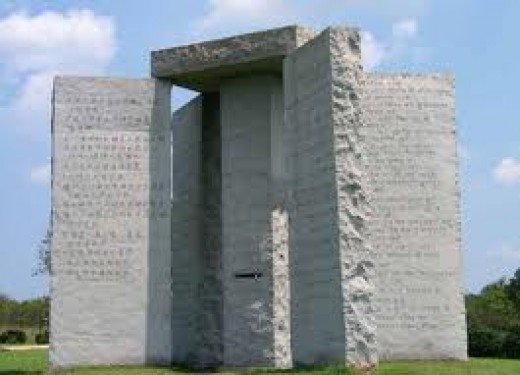 The Guidestones, and Their Deadly Intentions, In Writing.
Now, you might not realize that the Georgia Guidestones have much to do with American Corporate War against French Fertility; and that's okay, it's my job to explain that to you, and I'm so very happy to now have your attention.

According to Wikipedia, the following is said of the guidestones:
The Georgia Guidestones is a large granite monument in Elbert County, Georgia, USA. A message comprising ten guides is inscribed on the structure in eight modern languages, and a shorter message is inscribed at the top of the structure in four ancient languages' scripts:Babylonian , Classical Greek, Sanskrit, and Egyptian Hieroglyphics.

The structure is sometimes referred to as an "American Stonehenge."The monument is almost 20 feet (6.1 m) tall if the buried support stones are included, exactly 18 feet (5.5 m) otherwise, and made from six granite slabs weighing more than 240,000 pounds (110,000 kg) in all. One slab stands in the center, with four arranged around it. A capstone lies on top of the five slabs, which are astronomically aligned. An additional stone tablet, which is set in the ground a short distance to the west of the structure, provides some notes on the history and purpose of the Guidestones.
A Bit of Vandalism, The Person Might NOT Have Been Able To Spell, But That Person Is FAR More in Tune With Reality Than Guide Stone Visitors Typically Are.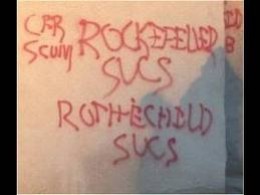 The Deadly Inscription Upon The Satanic Stones
MAINTAIN HUMANITY UNDER 500,000,000 IN PERPETUAL BALANCE WITH NATURE.

GUIDE REPRODUCTION WISELY -- IMPROVING FITNESS AND DIVERSITY.

UNITE HUMANITY WITH A LIVING NEW LANGUAGE.

RULE PASSION -- FAITH -- TRADITION -- AND ALL THINGS WITH TEMPERED REASON.

PROTECT PEOPLE AND NATIONS WITH FAIR LAWS AND JUST COURTS.

LET ALL NATIONS RULE INTERNALLY RESOLVING EXTERNAL DISPUTES IN A WORLD COURT.

AVOID PETTY LAWS AND USELESS OFFICIALS.

BALANCE PERSONAL RIGHTS WITH SOCIAL DUTIES.

PRIZE TRUTH -- BEAUTY -- LOVE -- SEEKING HARMONY WITH THE INFINITE.

BE NOT A CANCER ON THE EARTH -- LEAVE ROOM FOR NATURE -- LEAVE ROOM FOR NATURE.



THE GEORGIA GUIDESTONES
ELBERTON, GEORGIA
What Does This Have To Do With The Price Of Corn In France?
Monsanto mutant corn has been proven to destroy fertility in rats, do you think it would then, be good for YOU? Well, the French aren't interested in destroying their collective health by consuming Poisonous American Mutant Corn! How dare they! Don't they realize that we saved them in World War Two in order to sterilize them NOW?
But it's not just corn, Monsanto makes deadly and poison potato seeds for us to grow poison and deadly potatoes with as well. NO MORE EXCUSES! Every single time that you purchase
Roundup
, the herbicide that makes Monsanto a profitable corporation, YOU support a corporation that promotes suicides in India, and the destruction of the health of people there, here, and Europe. Roundup itself, the product that makes Monsanto able to poison the world, of course, is itself poisonous to the environment and the human body. Should you be so foolish and lazy to doubt my knowledge concerning the Monsanto product Roundup's deadly and poisonous effects on the Earth and your body; please read the following link:
I'm not certain why it is, but I am certain that global Lucifer-an money masters or "elites" have always loved to experiment in
France
, and it's well known that the first major social upheaval initiated by Rothschild and Weishaupt's Illuminati occurred in France, with the French Revolution.
Monsanto - Poisoning The Globe With Roundup.
The French Revolution and the Bavarian Illuminati
The Grand Lodge of British Columbia and Yukon Ancient Free and Accepted Masons website contains philosophy, symbolism and history textfiles, print-quality graphics, biographies, international links and local information.
Ted Turner - The Wanna Be Illuminate Behind the Guide Stones, and J.F.K. - the Last President that Wasn't Controlled By David Rockefeller.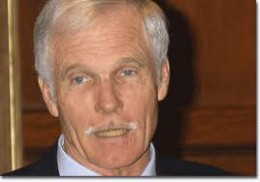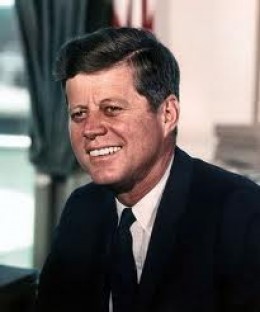 In Case You Missed It, The Georgia Guidestones Prophecy YOUR Death.
The Following information came from Wikipedia concerning the Satanic Guidestones in the beautiful state of Georgia.
In June 1979, an unknown person or persons under the pseudonym R. C. Christian hired Elberton Granite Finishing Company to build the structure. One popular hypothesis is that the patron's pseudonym may be a tribute to the legendary 17th-century founder of
Rosicrucianism
, Christian Rosenkreuz. Most people, however, know the mystery of who the Georgia Guidestones creator was, and those persons all believe that they were paid for by money from none other than
Ted Turner
.
So basically, if you realize that unabashed globalist Ted Turner wants you and I dead, and dead we must be for a world population to be maintained at 500,000,000; you must then accept that Ted Turner is several hundred million the threat to our world as Ted Bundy ever was.
MAINTAIN HUMANITY UNDER 500,000,000 IN PERPETUAL BALANCE WITH NATURE
It shouldn't be lost upon your consciousness that the first "guide" on the Georgia Guidestones is the murderous tome above. Without tremendous catastrophe, and mass murders, the Earth's sustainable population will never reach those low numbers; and at nearly seven billion souls in effect now; how is it that Ted Turner could otherwise conceive of such a number of persons without having planned the
murder
of nearly all of us?
GUIDE REPRODUCTION WISELY -- IMPROVING FITNESS AND DIVERSITY
It should be obvious to you that when some minor Illuminati billionaire wanna be like Ted Turner says, "guide reproduction wisely - improving fitness and diversity," what he really means is that he is big into Eugenics, racial purity, and that he's basically a Nazi of sorts. No, not Nazi like Hitler, but fascist like Hitler; and that you and I are NOT in the gene club. If we were worthy of being in the Ted Turner, Rockefeller wanna be gene club, then we'd be rich and sophisticated like Ted thinks that he is, and have our own stupid monuments that we try to pretend that we didn't build, because we'd be ashamed of such a thing, as the person who funded the creation of the Satanic guide stones was, and is. I don't do much of anything without signing my name to it, and the name on this profile is damn sure my name. I'm NOT ashamed of what I do and say, and I want everyone to know exactly who said it. I said it, ME. Secrecy is the greatest single thing that should show you that deception and lies are afoot, and this is why the greatest leader, and the last real leader of this nation,
John Fitzgerald Kennedy
, so famously stated that secrecy is repugnant in a free and open society.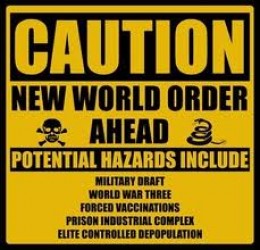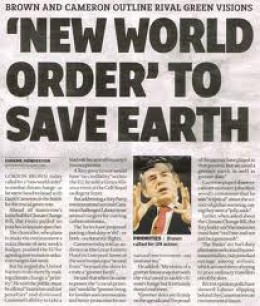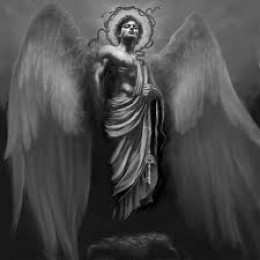 The New World Order and the Bible.
I spent two years of my life studying Bible end times prophecy in a drug rehab. You can take that statement and try to use it to discredit this author if you like, or you can realize that when I say that the ideas presented on the Georgia Guidestones perfectly and accurately depict the plans that the global elites have for their false dream utopia, and that those plans and dreams also fall directly and perfectly into line with the prophecies concerning the end times in the Christian Bible, and that I know what I'm talking about. More on all of that later. I'd prefer that you research it yourself, or just go on living as
an Atheist
and
Agnostic Zombie
. It's not my problem, it's your problem. I know what's going on already. Also, it does not matter at all that you do not believe in Christianity, what matters is that you simply must accept that the greatest majority of the global money elites are, in fact, Satanist, and Luciferean occultists and that they do, in fact, use the mass media to foster and expose the pseudo Christian hypocrisy in Corporate America, and that this is done in order to push the cause of atheism and agnosticism, as the divided populace is more the ready to be conquered by the new age pseudo messiah that they know is coming. Almost every last ancient belief system speaks of these things, global government, and a global messiah; if you are atheist or agnostic, I can at least hope that you'll be smart enough in the end to investigate this thoroughly.
Critical thinking
is the most valuable skill that any one of us can ever acquire, it is not taught in American public schools, looked down upon in the idiot media memes; and only seldom taught in colleges and Universities. You can not be a critical thinker if you've already ruled out anything that the atheists or agnostics are saying based upon your Bible, and you can NOT be a critical thinker by automatically ruling out and disregarding the things taught through
allegory
and prophecy in the Christian Bible. Best wishes, and God Bless.
~WTS~